Recently purchased this Kari Traa Julie Hood running jacket from Running Free & wore it for the first time to Around the Bay 30 KM this past weekend. There are 3 colors available, black, naval (dark blue) & jam (plum). I got the jam one & LOVE the color!
Material is SO soft! My initial thought was that it seemed a bit thin but the jacket did the job & kept me warm & the wind out. It was around -1C & I just had a tank top under the jacket.
Loved the snug hood & the thumb holes!
There's an upper headphone slot which seems neat for those who run with music, it would keep headphones from bouncing all over the place.
The jacket folds up nice & compact & there's 1 pocked at the back. I do wish there was an inner compartment as well. I also wish it was waterproof as well as wind proof.
I ran in it for almost 3 hours & it was very comfortable to wear the entire race. It provided comfort, warmth & flexibility. I love that it's so lightweight & doesn't feel heavy at all.
A great jacket for -5C to 20C depending on your other layers so very versatile!
This jacket is available in 3 sizes: S,M,L. I usually take an S & this fit well with a good length at the waist even though it looks like a long jacket online. It was not snug & restrictive like some of my other running jackets in this category.
This jacket looks better on than off so worthwhile to go in-store & check it out!
This is my first Kari Traa product but it won't be my last!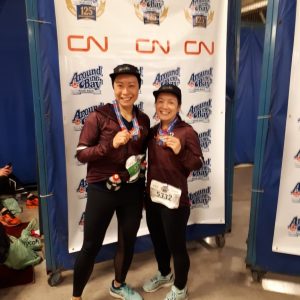 https://www.runningfree.com/products/Kari-Traa-47544/Kari-Traa-Julie-Hood-p51014/?affkey=f91f6244a38311a959e92518ede29a50&pstart=1