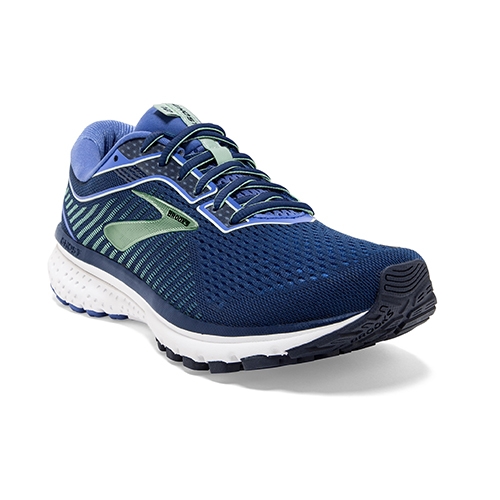 Being my first year on the running free team, I was really excited to invest in high quality running shoes as opposed to some of the runners I had used in the past, which I mostly purchased based on affordability. I was able to speak with the Brooks rep who told me about a few different styles. Although I was hoping to come out of the meeting with a pair right away, they did not have a 7.5 in stock and I wanted to try on multiple sizes to compare. I have bought shoes before thinking they fit I spent some time in them only to realize I needed something smaller. They kindly ordered them in within a few weeks, which was not so bad as I had other stuff to pick up as well.
It might sound ridiculous but one of my "must have's" for running shoes is that the main part is not white or grey. They just remind me too much of the runners I had as a kid in the 90's and are too ugly (and get dirty too fast). If I am spending good money on shoes, I want them to LOOK and FEEL good. I was able to get a pair in navy with teal designs which was a major win because teal is my favourite colour. They are dark enough that they still look really clean after using them all season (even the white sole still looks pretty clean).
Before getting the Brooks Ghost 12 I was experiencing some knee pain while running on the treadmill and indoors as the track, and thought it might be related to the lack of support in my shoes. I seem to have particularly high arches on my feet. The first time I ran in them was outside and it felt like running on a cloud! They were so cushy and supportive which I needed not only for proper form but to keep up my desire to run (I am one of those on and off again runner types). The best part is that the knee pain has not returned! Although it was early in the season, I cut off a few minutes of time on that first run in my brooks and I totally attribute it to having proper foot wear. Once these ones are worn out I will definitely check out the latest Brooks models as they have exceeded my expectations for sure.
https://www.runningfree.com/products/Shoes-27/Womens-727/Brooks-Ghost-12-p52534/?pstart=1