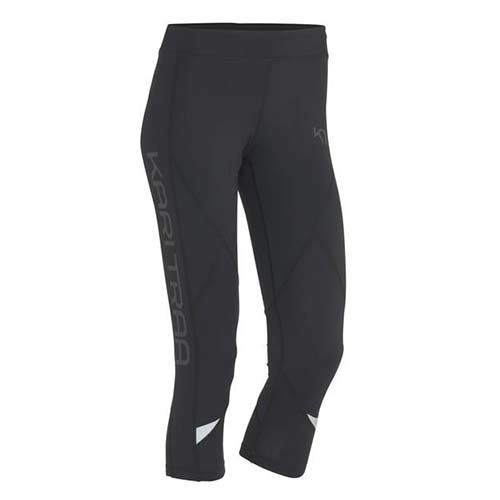 I picked up a pair of Louise ¾ Tights after winning a Kari Traa gift certificate in the team lottery. I had never heard of the brand before but the Kari Traa rep at the team meeting was super helpful in explaining the different products and I liked the idea of clothing designed by women, for women.
Being more of a beginner runner, I had not really invested in quality running clothing so I took this as an opportunity to invest in a pair of bottoms designed for athletics. I was also on maternity leave and was finding some of my old stuff just was no longer fitting comfortably. I figured the ¾ tights would be a great choice because I could get the most wear out of them from spring to fall (I only run indoors at the track or on the treadmill during the winter… at least for now).
Although there were some fun colours to choose from I stuck with plain old black for these, in anticipation of wearing them with my new red running free tops (my first year on the team!). I like the look with the reflective details, although I have not really used them for early morning or evening runs. I have worn them out in the rain so increasing visibility is always a plus for safety. I was not sure how I would feel about the silicone grip bottom hems as I can be sensitive to tightness around my lower legs (my main issue with leggings in general) but once I got running I totally forgot about them and it was fine. They have a pocket on the back with a zipper so it was nice to be able put a key somewhere I couldn't feel it (I have tucked them into my shoe before, and it's not the best feeling). I also like that the waist is adjustable, but the string is a continuous loop on the inside, so it's nice and smooth because it is not a tie and you don't have to worry about fishing for the strings because they can't get lost inside while in the wash or what not.
Overall, I really like the fit as they are snug but not restricting. The material feels thick enough to provide support, but thin enough that they feel light and airy and absorb sweat really well. They sit nicely on the waist and hips as opposed to some higher waist bottoms which I find uncomfortable. Also, the Kari Traa tag inside is like a smooth silicone material and not scratchy at all. I can't really think of anything I don't like about them! I did not get to do as much running this year as I had planned, but I did meet my goal of running a 10 K at the Turkey Trot in October and I rocked these tights and was way under my estimated time. It felt amazing!
https://www.runningfree.com/products/Kari-Traa-47544/Clothing-113/Tights-127/34-Length-352/Kari-Traa-Louise-34-p51618/?pstart=1