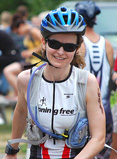 Team Running Free Alumni
Member Since: 2007
Occupation: Mother of 3
Sports: Running, Biking, Bikram yoga
Athletic Goals: To get enough training in for the Boston Marathon 2010 while trying to juggle family hockey schedules etc.
My most catastrophic racing experience was: My most catastrophic racing experience was the ATB in 2005. I had been dealing with this weird virus that gave me the sensation of acid reflux and therefore my breathing and consumption of carbs gels suffered. I was still running a decent race up until the 26km mark and then it hit me. Everybody started passing me and I couldn't do anything about it. I kept just putting one foot in front of the other until I finished. This whole event may not seem very catastrophic but unfortunately a picture was taken of me by Marathon photo. It looks as if I am 80 and my skin is falling off of my face. That picture made this race experience catastrophic.
My most memorable racing experience was: I was able to run in the first annual Oakville 1/2 Marathon. It went right by my parents' house and it included much of my running route that I did as a teenager. Great way to go down memory lane and I had my own water station at my parents' house.
Favourite Racing Gear: My favourite shoes at the moment are Asics Gel-kayano 16s. My favourite clothing is Smart Wool running socks and merino wool base layers.
Favourite Race Food: Oatmeal, chia, flax seed, sliced almonds, dried fruit. Matcha green tea latte...no foam.