Shell Material               Gore Scuba Windstopper N2S
Weight                         368 g
Colours                        Black Fog, Tide / Midnight, Fire / Lava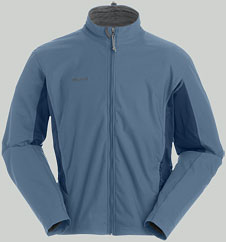 I had been looking for an all weather, all conditions jacket when I found the Evolution.  I instantly loved the fit as it was close fitting where needed, but didn't bunch like other jackets I have tried.  The best though was the Gore Tex N2S fabric that is used.  N2S stands for "next to skin", and is very appropriately named.  I have sensitive skin and have troubles with a lot of materials causing discomfort when directly against my skin.  The Evolution felt buttery soft and supple and I didn't feel any irritation.  The material is also wind resistant, water repellant and very breathable.  I have found it to be completely waterproof in all but the most brutal downpours and blocks the wind completely.  It is amazingly breathable and I don't have any problems with condensation build like I do with all the other "waterproof breathable" jackets I have used.  The best thing about this jacket is its versatility though.  Marmot claims that the Evolution is an ultralight softshell that blurs category boundaries and they have nailed it.  I use this jacket all year round, just adding and removing layers underneath.  It is perfect for a cross country ski in February, an off road brick workout in May, or a late night trail run in September.  The quality of the jacket is impeccable, like everything from Marmot that I have had the pleasure to own.  If you are looking for that do it all jacket you can't got wrong with the evolution.