Rating
Course – 5- Excellent off road course, but tough for beginners
Organization – 3.5 – Best organized FAR race I have been at
Pre/Post race facilities – 3.5 – Fenelon Falls fair grounds with building for reg. and post race
Value for money – 3.5 – Same as last year, good early entry pricing
Fun – 4.5 – Amazing course, although a little difficult for beginners
Food – 4.5 – Chicken, Veg and Rice
Swag – 5 – Salomon Tech T
Overall Rating – 4.5 – Great course from Bob Miller

For this race I was racing just for fun with 2 people that I work with who had never done a race of any kind before.  My only goal for this race was to get through as much of the course as possible and show my friends how much fun Adventure Racing is. 
Cara is a Yoga instructor who has done lots of spinning, Yoga and Pilates, but hadn't put much time in outside running or riding.  Darren is a bartender who tries to get to the gym as often as possible, but doesn't do much outside besides play B-Ball with the local kids, although he did a lot of riding growing up in Malibu Canyon.  We had talked about what to expect and what I had experienced in races in the past, but without knowing the course I couldn't give them any specifics.  They were a little nervous (actually Darren was a lot nervous) in the week leading up to the race, but excited when the day finally arrived.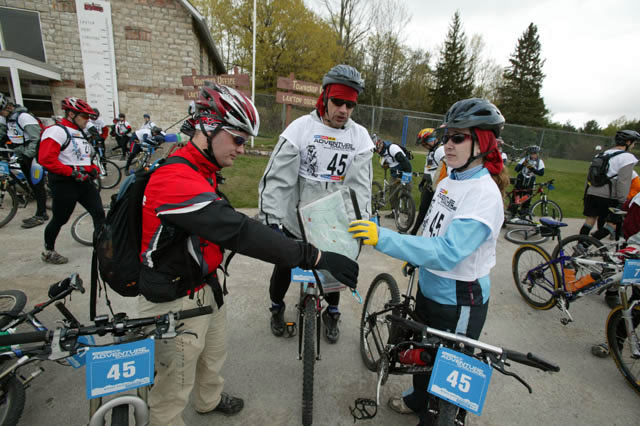 The long range forecast showed rain and more rain for the weekend of the race, but as race day approached the weather forecast got better.  Race morning dawned cloudy and cool, but luckily no rain.  We collected our maps and got our bikes ready as we were told it would be a bike start and they needed our bike ASAP.  We then had a look at the maps.  This was a new experience for me having complete control over the maps.  I had been the navigator for races in the past, but they had also been group efforts, especially when looking over route options.  I plotted the CPs and chose routes while Darren and Cara got dressed and packed their bags.  We headed over to the race briefing ready to go and felling good about the race.  I failed to mention to Darren and Cara that the race looked to be the longest and most difficult SAC I had raced or volunteered at, oops.  I figured they had enough to think about without adding to their plate.  After the briefing we headed to the buses for the trip to the Start line.
As I mentioned the race started on the bikes.  We headed out along a cottage road that was nice and wide and a little rolling.  Darren started out in front and Cara kind of held back a little.  By the 3 km mark Cara was off the front and Darren was dealing with his first bonk.  He had never experienced the feeling of a bonk before; where you can't get your legs to get going no matter how hard you try.  We took it slower for a little while and continued on.  The course then turned onto a power line trail for the next section.  As we were passing around a very large puddle all of a sudden 3 or 4 really fast teams who had obviously missed the turn went splashing through the water past us.  Normally I would have been splashing through the water with them, but I didn't want to throw my teammates into the water this early in the race.  I knew that we had some fun swampy sections up ahead where they would learn what adventure racing is all about.  We continued along an ATV trail for the next 10k or so.  We traveled fairly slow and Darren kept asking me how much farther; unfortunately the trail was not even close to straight so it was tough to tell the distance from the map.  Darren soon tired of me telling him we only had 2k left until the road and it became a standing joke that we had 2k left.  We finally turned off the ATV trail onto a cottage road which we followed into CP1.  When we reached CP 1 we found out that we where not last, there were 2 other teams that had obviously got lost, behind us.  From CP 1 we got back onto some really muddy ATV trails where I performed one of my embarrassing moments of the race.  We passed over a log bridge and as I reached the end I didn't raise my front tire and caught it on a log, performing one of the slowest endo's in AR history in clear view of the CP staff.  I got up had good laugh at myself to cover my embarrassment and we continued on.  The next section was very tough for Cara and Darren as it continually had small climbs with a quick descent into a mud pit.  We ended up walking a lot of it, and were very glad to reach the end of the trail and get onto the road.  Back on the road I was able to give Darren a push and we picked up the pace into CP2/TA1.  Darren was very glad to see the end of the bike.
After peeling of our wet and muddy bike gear and I was able to put on some nice dry shoes which felt great.  Darren and Cara did not use bike shoes so they had to continue on the same shoes they had, but Cara had brought some clean socks that she said felt great.  We got our bearings and headed into the thick bush.  I decided that this was a good time to pull out the Jelly Beans and give them a nice treat for all their hard work.  We started to make some pretty good time as we were all accustomed to being on our feet.  CP3 was located at a beaver dam on a small creek just over 2k away.  We aimed to travel a little north of the dam and then follow the creek into the transition.  Most of the first km was pretty dry with the odd wet patch, but the second km started to get very soggy, then we hit some real swamp.  We struggled through the swamp with water up to our waists at times until we got to CP3 which led us up onto some higher elevation and drier ground.  After passing through CP 3 we were aiming for an ATV trail that led out to road, and eventually the river we would be paddling on.  By this time we knew that we would not be able to finish within the 8 hour time limit, but we were here to have fun and wanted to just finish the race.  We traveled on the high ground for about 750m until it dipped back down into the swamp.  This is where I experienced my second embarrassing moment.  I somehow got a stick caught between my legs which caused me to fall, then got caught up in my pants and I was unable to get up.  After flailing around finally managing to remove the stick I got up and Cara kindly pointed out to me (when she could finally speak again after laughing at me) that I had fallen onto a large pile of Deer dung.  Luckily it was dried out so didn't, let's say leave a mark.  We hit the ATV trail that ran perpendicular to the trail we were looking for a turned south.  Unfortunately we had drifted to far south from my intended route and were now traveling the wrong way.  After traveling this way for a while we determined that this was the case and headed back North to discover that the trail was only about 200m north of where we cam out of the bush.  We had a good laugh about it and looked ahead to the canoe.  We were very excited as it looked like a very nice paddle along a flat water river, with a little bit of current behind us.  After a 4k walk we arrived at the put in around 5:10 where we discovered that we had missed the newly inserted cut off time.  There was no mention of a cut off for the paddle at the race briefing, or in our race instructions.  When we inquired we were told by the CP staff that it would take us at least 3 hours to finish the paddle when it would be dark.  This was totally bogus; as I generously gave us about 1.5 hours to finish the 11k leg (another volunteer told us they had decided to insert the cut off because the canoe rental company wanted to pack up).  We were offered to be ferried to the final bike section and ride into the finish, but after a team meeting we decided not to because we had already biked a really good distance, and Darren's bike was having some problems.  There were 3 other teams that came in 5-15 mins behind us that decided the same thing.  We were told to sit tight and we would be picked up and taken to the finish.  We were a little upset about not being able to paddle, but put it behind us and talked with the other teams about the race and things we enjoyed etc.  We were wet from swamp and sweat, and soon began to get a little cold.  After waiting an hour to be picked up (we would have been almost done the canoe) we decided to ask what was going on.  The Volunteer called in and was told that someone would be there to pick us up in around an hour.  So we had 12 racers, most doing there first of second race, sitting waiting over 2 hours.  They went from having the time of their lives to be cold and unhappy.  Luckily we did have a good time, and both Cara and Darren are planning on racing again.  Cara is taking a Navigation course and plans to lead her own team into the next, where I will be racing against her with my usual partner Jill.
Overall we had a great time, and I got to see a completely different side of the race.  Racing from the back of the pack it quite different, but is great experience, so grab some friends and get out there.