"The Canadian" is the product of Ottawa-based Somersault Promotions (http://www.somersault.ca/eventcanadian.htm). Somersault races are a staple feature of the very active Ottawa-area multisport and running scene. 
The "Canadian" contains by my count at least twenty multisport and running races over the course of a day – from iron-distance to sprint-distance triathlons and duathlons, including races with a canoe or kayak leg instead of a swim or run. To keep iron-distance athletes company on the run course this year, Somersault even added a late-day marathon and half-marathon race to the mix.
My entry in the Sprint Duathlon at the Canadian marked my tenuous commitment to expanding my horizons beyond the running races and road cycling that have been my main focus the last couple of years. I have entered just one duathlon in each of the last two years, and this was my first of 2010 despite the lateness of the season. Previous efforts were Olympic and International distances, both of which feature 15 km of total running in addition to the bike. The 2km-3-km-5km Sprint distance would prove to be an easier distance, though not one for which I had trained in any particular way.
The Canadian Sprint Duathlon had an 8:00 am start at Mooney's Bay on the banks of Ottawa's Rideau River. My arrival a few minutes after 7:00 am, by bike from my brother's place a few km's away, made for an easy and un-crowded set-up in transition. At that time, iron-distance athletes were already in the water or on the run, and half-iron racers would arrive later. The transition zone was well-organized inside the oval of the Terry Fox track and field facility.
70 sprint duathletes started in a group of about 200 together with 8km and 3km runners. Starting on the track, the first run headed out to a paved path along the beach, around some bends and under Hog's Back Road to a quick turnaround on the banks of the Rideau Canal. I kept a fast pace, without blowing up. On the return, I figured I was in the back of the front of the pack. A first run split of 7:42 for 2 km put me in 16th place overall, but just 4th of 8 in my AG according to Sportstats.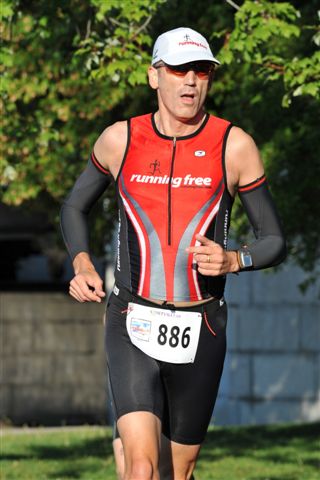 I didn't break any records in T-1 but was efficient thanks to a bare-bones transition set-up on the grass field – just shoes on a bag. That bare-bones set-up would prove to be a problem in T-2 however. Getting to the start of the bike course required a run of a couple of hundred metres out of the stadium infield and across a grassy field. In preparation for that long transition, I'd swapped out my regular road bike pedals and shoes for a mountain bike pedal and shoe combination that made for an easier, quicker run out of transition.
The 30 km bike course was two loops from Hog's Back to downtown along the Canal – a great picturesque ride with lots of room. A stiff southwest wind added a bit of effort to the return portion of each loop. The wind added some extra disadvantage to a non-aero road bike despite my best efforts to keep a tight tuck into the breeze. Heading into the race, I thought I could have been top-ten on the bike based on the previous year's results but I would have needed to save two minutes to achieve that objective. A 31 km/h average was good for a 16th place bike split – same position as run number one.
My return to transition is where my inexperience cost me some time. I should have been in and out of T2 in half the 2:43 recorded by Sportstats. I had made a mental note of how to locate my spot on the rack, but in the rush I ran right past my spot without seeing my running shoes and bag. Convinced that I'd entered the wrong row, I circled around the next row before I spotted my gear (now on the other side of the rack where it was supposed to be). I hauled my stuff under the rack and left the bike. After a quick change into running shoes, I took off but now in the wrong direction. I realized my mistake and had to double back through the transition zone to the run exit. My takeaway from this is to make your transition set-up stand out in some way. Without a racked bike, a lot of running shoes and bags look the same. I also see the need to take time before the race to really walk through your route into and out of transition.
Now I was out on the second run, on the same course as before, but with a longer run north on the Canal to a turnaround near Carleton University. My goal was to keep up a steady pace to be able to run hard to the finish. A time of just under 24 minutes was slower than I would have liked.  
With the exception of the screw-up in T-2, this was a well-executed race for me, and was a satisfying result. It would have been difficult to go faster in the circumstances, not having really trained in a focussed way for the event. The cool weather and familiar course gave me a chance to push hard in a friendly environment and with the benefit of some extra encouragement from my brother and niece.
I finished the race in 20th place overall, which was good enough for only 6th out of 8 in my new 45-49 age group. This was my first race of any kind after turning 45 last month. As a sign that it doesn't get easier at the young end of this new age group, my time would have been good enough for a 2nd place AG finish in my old 40-44 AG, with the same number of racers. I'll need to follow the example of others by getting stronger and faster to survive in this new age group, and more duathlons will be a part of that.
 Next year at the Canadian? Maybe the 113 Du.