just when you thought that it was safe to go back out in the water winter …
as an all-conditions winter runner i knew back in november that i needed to acquire some new hand-gear.  i have always felt like i have particularly poor circulation to my extremities, and specifically to my hands (although it's not anything as serious as raynaud's phenomenon/syndrome/disease) so this season i decided to invest in a good pair of winter running mittens.  after scouting some reputable reviews i narrowed my choices down to the saucony run mitt and the sugoi wind mitt, both of which were available (at the time) online from my sponsoring LRS (local running shop) Running Free.
why did i end up going with the saucony run mitt?
advanced snot-wiping technology.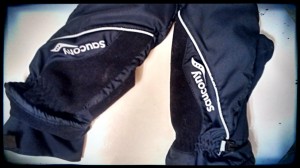 seriously, here's a lowdown of my experience with these mittens after almost 4 months of winter running:
> lightweight – normally you wouldn't factor weight into consideration for a mitten, especially since that doesn't play into its primary function.  but when you're swinging your arms back and forth over 15-20kms i don't want to have anything particularly bulky or heavy at the end of those pendulums.  the run mitt is practically not noticeable when put on.
> reflective accents – as a pre-dawn/low-light runner, every little bit helps.  the stripe and reflective wordmark on the back of the mitt swinging back and forth into view certainly draws attention from shining car headlights.
> fleece nose-wiping surfaces – i wasn't joking about snot management!  my nose starts to run after about the first five metres of winter running, so this was a must-have for me.  the back of the thumb and back of index finger panels are great for making sure that the face stays mucus-free.
> extended cuff – on some of the reeeaaalllly cold days it was reassuring to know that i could go out on my runs with next-to-no skin exposure, and certainly not when it came to my wrists.  the cuffs either tuck under my jacket arms or bunch up in a way that still ensures protection and capturing of warmth.
> tundra ready – as a wind and water resistant mitt, on its own this saucony product really did the trick for me for as low as -15°C windchill temperatures.  anything colder than that and i would simply complement the run mitt with a thin pair of cotton mitts underneath (the size that i selected would easily accommodate a second set of mitts without being too sloppy when worn on their own), and this saw me through several runs at -40°C windchill or colder.
> durability – besides surviving regular trips through the washer and dryer (did i mention their ability to absorb sinus sludge?), i wore these mitts on a snowshoe adventure race where they had to endure several encounters with thick brambles.  aside from a small tear (which was easily repaired thanks to my nifty darning skills) they took a licking and kept on … well, keeping on.
here's a quickie video review of the saucony run mitt, complete with nasal DNA: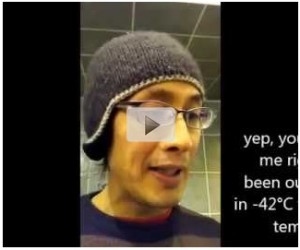 if you are stubborn enough to avoid the treadmill (and ignore everyone's advice) and run outside through the harshest of winter conditions, i will happily endorse the saucony run mitt as a worthwhile investment!