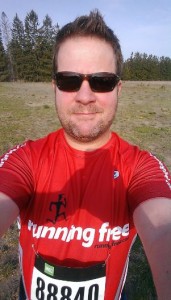 Going to any MEC race it becomes clear that their objective to 'get people out and being active' is the cornerstone.  Its evidence in the outstanding value, chill vibe and positive attitude of the staff and volunteers.
Pre/Post-Race
In their 3rd year of doing race the MEC Barrie team decided to add a trail race.  The location they found was the Tree Nursery Sport Park in Springwater, Ontario just North of Barrie which is surrounded my trails.  I will definitely be back to explore more.
As is customary with their events, it was well organized, they provided water, NUUN beverage, bananas, coffee, etc.  Also a big plus was real flushing toilets and super clean facilities.
The Race
The race day weather had been shifting all week from no rain to potential thunderstorms to party cloudy.  One thing that didn't change was the heat.  Training all winter for Around The Bay left me little time spent in the heat.  This was going to be fun.
Prior to the race I went back and forth on using my Nathan Speed Belt 2 as there were pretty frequently water stations during the race.  I am glad I decided to bring it!
I was ready for a nice run in the woods and thought about channeling my inner Bob Marley chill vibe.  Trails for me are really an exercise in patience as I can quickly burn myself out on the hills vs. the steady drone of road racing.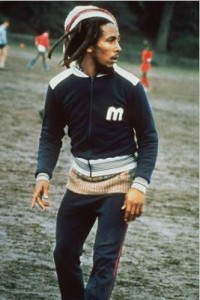 Get Up, Stand Up
My strategy for the start of any race is to position myself where I think I will finish and then take it from there, which traditionally is 55% to 65% back.  With this group which looked about 50 people I didn't rush to be anywhere fast.  The start of the race had some open field for quite a distance so I figured the faster people would shake out and I would be where I needed to be before hitting the trails which can be difficult to either pass or politely be passed.
Out of the gate the pace was quicker than I would normally run.  I had a few friends in the group and fellow Team Running Free runner Patrick Voo was up near the front running quickly but looking effortless as he does.  Another friend Trevor was up there somewhere.  I was unsure where I was in the pack as I didn't bother looking behind me before hitting the trails.
Roots Rock Reggae – The Start
This is frankly where the Bob Marley theme came to me.  Roots and rocks were the order of the day in this sections.  It felt downhill through most of this part.  I was cooking a little fast for my liking but was in a tight pack of people dodging rocks, roots and fallen trees so I kept rolling with it for about the first 2k I would say which included an OPP monitored street crossing.
Around this time the pace was getting to me so I motioned I would be taking a break and snagged my water bottle for a quick squirt of fluid letting a few people pass.
It was now that I realized I may be in last place.  About 4 people passed me and didn't hear any footsteps.  I had never been feeling like I was last in a race before but I honestly actually like the fact I was now running with no pressure of footsteps and picked my way through the forest at my pace which I felt was good.  With a smaller race (i.e. not thousands like some other I run), you can get a really stacked deck of competitors and this was the case.
I came across an injured runner covered in leaves and whom had obviously took a tumble.  I stopped for a few seconds and confirmed she could walk, didn't need help, was fine being left and that someone was running ahead to let the aid station know she was hobbling in to see them.
I continued on.
A quick joke and 'thank you' at the first water station and cup of cold water and I was rolling on.
Light A Fire – 2km to 5km
It hadn't rained in area for ages so I am not sure I could blame humidity but the 28 degree heat started to burn my lungs and beat me down.  By now I was alone in a sparsely wooded forest picking my way back towards where we had started after looping back to the same first water station.
I again asked them "am I still in first" and they confirmed I 'could be'.  They then pointed me downhill on a dirt road trail and near the bottom I could see someone on course … someone actually racing I think … not a dog walker … so I took up pursuit.
Knowing that pushing too hard downhill can fry your quads I was patient, kept my burning lungs in check and closed the gap over time.
We crossed around a nice pond that had people dog walking.  All happy to nod and say 'good morning'.
By the end of this open area I was upon the other 'runner'.  What I discovered is that this man was either injured or a legit speed walker.  He was clipping along at a nice pace but keeping his strides short and close to the ground.
Passing him I confirmed he had a 'hamstring injury' and let him know that I would probably see him the next big hill.  Well it wasn't the next big hill or 3 but the next water station that he motored by me.  I thought I would likely pass him on the flats somewhere but … we were a long way from the flats.  His power hill walking was better than mine and I didn't see him again.  I realize later he didn't finish but at the time I considered myself in last.
After another OPP monitored road crossing, I was about 5km/6km in and 9/10km to go when the 15k-only first section met up with the 5k/10k courses with all people running the same path.  At least I had some company … albeit heading the other way.
No Woman, No Cry – 5k onward
The course got really hilly and really hot.  Hill after hill gets confusing.  I tried to power walk as much as I could and 'just shuffle' as I crested the tops and ran on the flats and down-hills.
There was one big downhill section that had six or seven 5k or 10k runners coming up the hill.  They looked smashed.  I thought to myself … 'I am going to have 5k or 10k more on my legs when I hit that hill the other way!'
The heat was brutal.  The terrain challenging.  It was uphill to downhill, repeat.  I took in water and soaked myself at stations when I could but I was hurting.
Shortly after the 4th water station (I think) I started to cross into the section only the 10k and 15k runners were running.  This section was an out and back.  I started coming across people I knew.
Rastaman Vibrations (yeah, Positive!) – 6km
Barrie Running Ninjas: Lewis, Sara, Rick, Patrick, Trevor, etc. on their 10k and 15k races passed me and gave me the high five with encouraging words.  It was a nice boost.  I was glad they all looked strong and their support lightened my feet a bit.
I had read an article in a running magazine on whether it was good or bad to give people at the back of the pack the old 'keep it going' or 'you're doing great.'  When I read it I remembered doing that on countless occasions as I passed people heading out on a race as I was heading in and legitimately trying to encourage them.
Well … thinking I was basically in last place meant nearly every person heading the other way gave me encouragement … let me tell you … the jury is still out.  I appreciated the positive vibes but part of me felt like 'uh ya, I am still out here bustin' my butt!  Don't worry about me!'
Confrontation – Out and back loop – 7km to 13km
There is a time in every running race where you have a confrontation.  A confrontation with yourself.  Being alone for much of the run now I had lots of time to think.
Several times the heat got the better of me and I started feeling 'the sweats' coming over me.  I had felt like that a few times before when pushing myself too much.  Thinking back to a time in high-school gym class where I had to bow out and ended up lying on the cold tile floor for 30 minutes dizzy and zapped.
I was running last in a race and feeling rough.  I didn't consider turning around or quitting.  I just kept plugging away.  Honestly, my place in the race didn't bother me.  I knew how hard I had run and pushed on.
Turning around at the final water station I let them I know I was likely in last place and they could pack up and head home.  They had been counting runners and informed me I wasn't in last.
The way into the finish stretch was just an exercise in pushing and working hard.
Lively Up Yourself – 13km to Finish
Hitting the last aid station I knew the way in was pretty flat and although it did lead out into the hot direct sun I was on my way to the finish.
Greeting last place me on the way into the finish were some of the Barrie Running Ninjas who so graciously stuck around to see me come in.
I ran through the inflated banner and felt like a champion with my head held high!
For the record I wasn't last after all.  I finished alone at 45 of 52 and that was just the people who completed the race.  I like to think I ran better than the me of 2 years ago who might be sitting on the couch.
For anyone considering this race they should expect a well run event, a challenging course and amazing people.
It may have been the air conditioning and Reggae music on the way home but when I pulled into my driveway I felt like going for a run … all is not lost.