This is an interesting product – a compression and recovery sock in the same garment for the price of a compression sock. The twist is in fact a twist…of the sock 180 degrees to change from a compression to recuperation garment.
I tried these out and I was cautious from the start. With a size 12.5 foot, I am usually a men's XL or beyond the largest size in such a garment. These socks, instead, measured by calf size. I was a size 3, the second-smallest of four unisex sizes. I was concerned my toes would poke through the end of these socks. But I put them on and the foot sizing was appropriate. A pleasant surprise.
All stated benefits of these and other compression socks – enhanced blood circulation, increased arch support and oxygen delivery to muscles, reduced soreness, inflammation and muscle oscillation, better muscle alignment and reduced recovery time – all appear to be present but are hard to isolate as variables for evaluation. Similarly I don't doubt the increase in compression from 20-25 mmHg (shin) to 25-30 mmHg (calf) with the twist.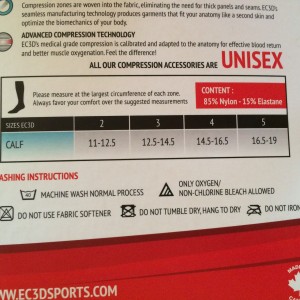 What I did observe, however, was all positive:
– good sizing. The calf was tight as one would expect with calf-based sizing and my ridiculous feet still comfortable
– they stayed up. I have a few pairs of competitor products, size XL, that are dangling from my ankles at the end of a marathon
– these look as good as knee-high socks not on Junkyard Dog Jerome Williams can look.
And the immeasureable benefits surely are as stated.  As for practicality, these are likely best for a race where you drive home before your first shower opportunity. Otherwise one might swap for some less-ripe socks. But there is no extra cash outlay for the dual garment so show off the twist to all of your friends!
Buy these with confidence.