I've been a happy user of Garmin's Forerunner 10 running watch for 18 months. It gave me the on-the-run data I need – cumulative time, distance, pace and lap split times – as well as summary files that are compatible with the Strava app I use for tracking workouts and ribbing other athletes. It is easy-to-use at a low-end price, meaning I can be rough (or careless) with the watch without any concern.
It had one limitation. The battery life was only 5 hours, which caused problems when I cycled or did long runs on back-to-back days without charging. It surely would not make it through future 50K races. The solution? The Forerunner 25, recently released with little to no fanfare. In addition to a 10 hour battery life, it also had a wireless connection to devices for data storage. With the Forerunner 10 I had to continually carry a charging cradle and cord, boot up PCs to retrieve data and was often struggling to get USB device recognition or through a network firewall.
Unlike earlier Forerunner models, there are four variations called the Forerunner 25. The 25 can have a small face and 8 hour battery or large and 10 hour charge. It can also have no heart rate monitor, replacing the 10, or a HRM, replacing the 15. It appears there is a higher price for the HRM but not the larger battery. I opted for the 10 hour battery without HRM: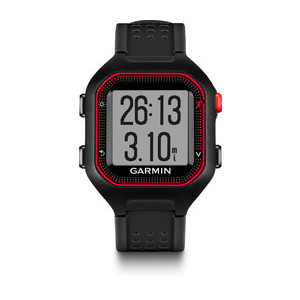 It has the expected basics – it tracks distance, lap splits, time, pace and calories. It is easy-to-use, waterproof, has a strong battery and customizable screens to report on the measures tracked. It appears to have useful running features beyond my needs – virtual pacer and indoor workout tracking.
There are also features for those looking to track daily activities beyond specific workouts like daily steps and sleep and has a battery that will last for months if daily detailed workouts are not measured.
The groovy features are the best. Bluetooth appreciation does not come easy to me, grocery store dude that talks all the way up the paper goods aisle with electronics strapped to his face is not my favourite neighbour. This watch was very easy to pair with my iPhone 5. Within a minute of completion of my first activity it was already loaded to Strava. The communication of popup notifications from my iPhone was a very pleasant surprise: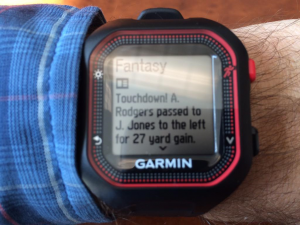 In addition to critical sports scoring updates, you can get urgent messages in business meetings without putting a phone on the table or be notified of a missed call on a long run with your phone in your hydration pack. Retrieval of run data is no longer a chore, I just need to bring the Forerunner within 50 metres of my iPhone.
If considering, do know what you're buying – know if you want an HRM and be aware the small-faced version is not a women's version, it is a unisex, smaller profile/battery version. This is not a multisport watch. When going to your data storage site of choice, Strava for me, you will need to modify non-running workouts to reflect cycling, skateboarding or breakdancing as needed.
In sum, Garmin's Forerunner 25 is a great value and will satisfy running needs, activity tracker needs, is easy-to-use and gives the bonus of getting non-running information to you when you unfortunately need to be reachable.
This is thus far my best gear purchase of 2015. Consider and enjoy!