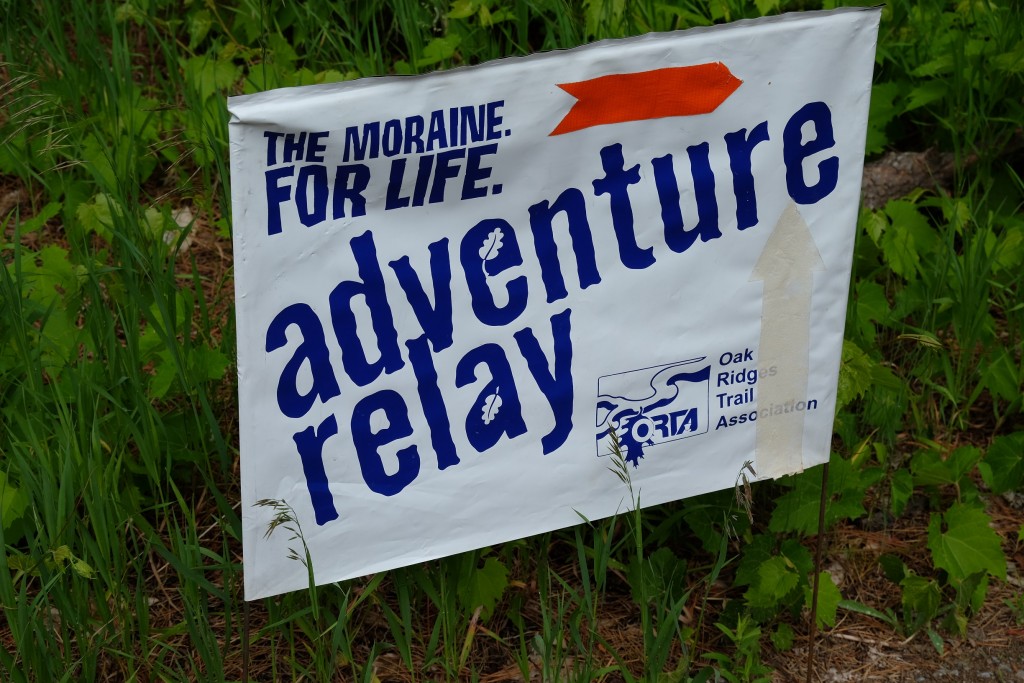 This year I was lucky enough to be able to participate in the Oak Ridges Trail Association (ORTA) Adventure Relay. It was hosted on June 11 this year, which also coincided with the Peterborough Craft Beer Festival and the Dragon Boat Festival, so already I had some tough decisions to make.  After thinking it over for all of 5 minutes, it was pretty clear that anadventure through the Oak Ridges Moraine with your friends beats an afternoon of oversized canoes and over-priced beer.
About the Race
The ORTA Relay isn't really one of the most mainstream of races around, so here's it in a nutshell.
160 km of awesome trails through the Oak Ridges Moraine starting at Gore's Landing on Rice Lake and ending in King City.
Race is split into 14 separate sections of either canoeing, biking, or running/trekking.
Teams can have a maximum of 15 athletes: 1 per leg except canoeing which requires 2. No kayaks.
If you want to learn more about the ORTA and the Adventure Race, you should definitely click here.
Registration
Registration may have been the most difficult part of the race. This is no fault to the ORTA; everything on their end was well organized and handled efficiently. I'm talking more about organizing vehicles, hunting down a canoe, getting a suitable bike rack, and finding 14 other hooligans to race with me. Turns out hooligans are hard to come by these days and I was only able to squeak out another 4 team members. As a sliver lining, it did simplify all the other logistics! After some heated debates and verbal jousting we settled on a team name – Running Free-Lancers.  Quite appropriate, no?
Some other preparatory items that came in handy included three Powerpoint presentations and all the maps required to complete the course. The presentations covered the useful information such as mandatory equipment, how to decipher the trail blazers, what poison ivy looks like, etc. The maps included each segment in plan with some additional written information about the trail itself, but also included driving directions and parking. This gave a chance for us to scout our respective segments in preparation for the big race. Some of the maps did have to change close to race day due to construction, but that just added to the adventure.
Race Day and Leg 1: Canoeing
Wake up. Summon the troops. Oatmeal and banana. Start the drive. Now for those of you who have never been to Gore's Landing, it's the type of small town where if you blink you might miss it. If you happen to be driving, north you blink and you end up in Rice Lake. When we arrived at the start location it was a bit of a warzone. I feel it can be mathematically represented by:
(Single lane road + Team vehicles with canoes and bikes) x 25 teams x 14 members = Mayhem
The rain and registration line up certainly didn't help either. Parking was practically non-existent and those who did park off-road certainly ran the risk bottoming out. If I were to have a mulligan on this morning I would either park on the main road and portage in, or put in at a different location and just paddle to the start line. After registration and the ceremonial bagpipe march to the canoes, the recreational participants boarded their vessels and fashioned somewhat of a start line. Recreational teams  had an earlier start time than the elite teams by about 5-10 minutes.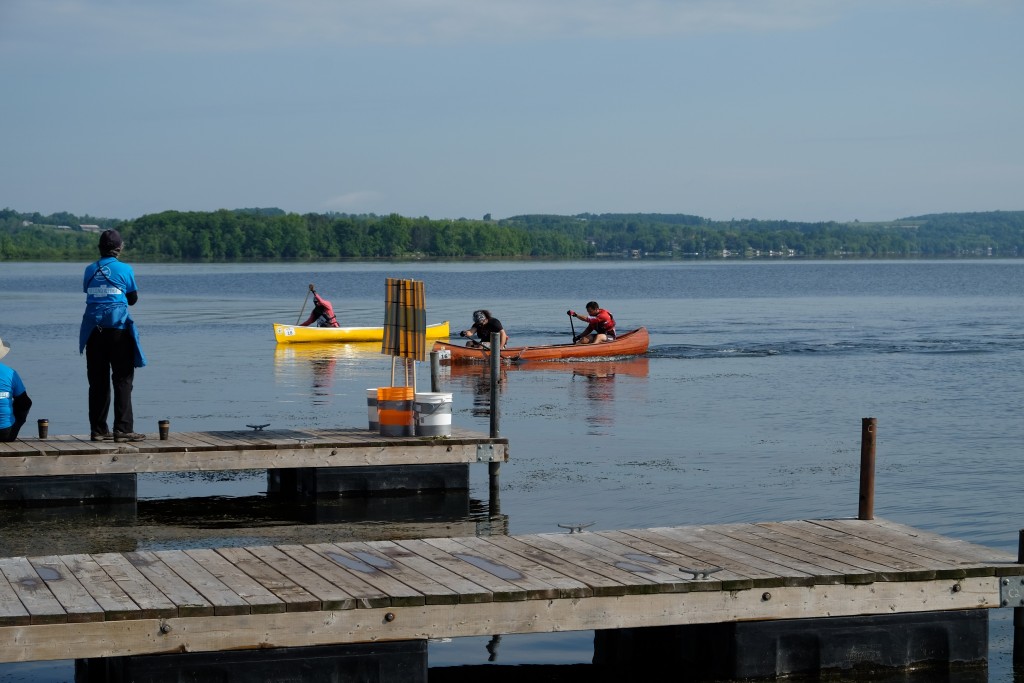 Like most Canadians, I feel like I'm a bit of outdoorsman. I've done my fair share of camping, hiking and even canoeing. However, myself and probably most of the other recreational teams, were humbled by the elite . I would honestly not be surprised if they were going 1.5 to 2 times the speed we were. So clearly, there is some technique to canoe racing. This is what I've gathered from the twenty seconds they were beside me. 1) Short and choppy strokes that don't go past the hip and 2) do ten-ish strokes on one side, then both crew members changes sides. 3) J-stroke is for chumps and calligraphy, all it adds is drag. I'm sure there is QUITE a bit more to the sport than that, but that's all my untrained eyes' could pick up.
Stage 2-6: Don't get lost
So I didn't race these stages but the car ride was great! Here are some thoughts from my team that came up on race day.
Stage 2: The storm from the night before knocked over some slash which made a few people take a wrong turn. It would have been nice to have that cleaned up, but to be fair a 160 km is a lot of trail to clean on the morning of the race. The route from Bewdley to Ganaraska was much sandier than expected and some hybrid bikes didn't fair that well. This leg we saw the advantage of individually timed segments. Your final standing in the race was decided by the cumulative time of all the legs individually. This may sound obvious at first, but it allowed for the next team mate to start even if the previous teammate had no finished yet. In adventure racing you never know when someone could be gassed, hurt, or in our case… lost. This was a great way to make sure all the teams were relatively close together and we all finished before midnight.
Stage 3-6: Mostly running legs that take you through Ganaraska, past the 115, and to the north. We only got lost once on stage 5! This seems to be a recurring theme…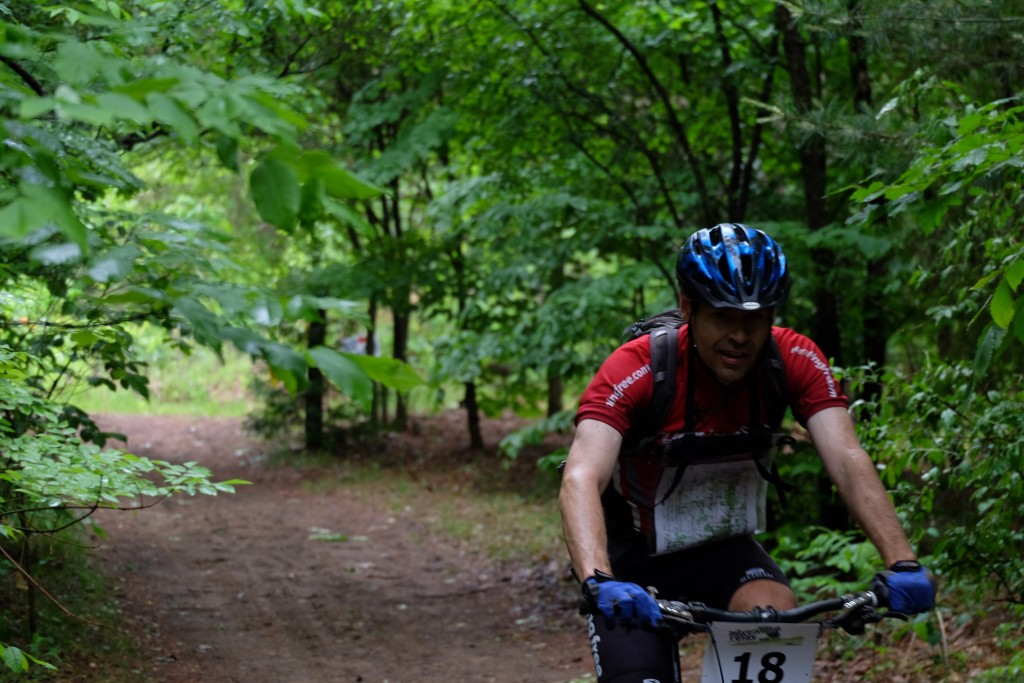 Stage 7: The Beach Party
I was quite excited for my next leg. A small section of it goes through Long Sault Conservation which is my stomping ground so I feel like I had home field advantage. Turns out there was no advantage. Sand pits and sand stretches littered the trail and was the ultimate equalizer for everyone. Again, the hybrid bikes and athletes with bald tires got a pretty raw deal so be sure to have thick knobby tires for this section. Even the Durham Crawlers (Jeep group) were out playing around in the sand pits just to give you an idea of how much sand there was. Any section that wasn't sandy was deeply rutted and eroded, probably from the aforementioned off-road enthusiasts. The end check point was at Purple Woods Conservation, right beside White Feather Farms.
Stage 8 & 9: Pit Stop at White Feather Farm
Again, I didn't race these legs so I don't have much to review. It was approaching midday at this point and the sun was pretty strong. Thankfully stage 8 was a shaded bike ride through Durham Forest which is well known for its excellent XC mountain bike trails. Section 9 was a running segment that my team mate smartly scouted out ahead so there was nothing unexpected. More importantly though was our stop at White Feather Farm – a country store and local hotspot. This gave as a chance to pick up some cold water, ice for the coolers, scalloped potatoes, and freshly baked bread. It was a little slice of heaven that we definitely needed mid-race. Consider dropping by this venue next year as a refueling station. (#notasponsor)
Stage 10: Glad I Reviewed the Powerpoint
I could feel fatigue was starting to set in by the first few kilometers. It may have been better that I couldn't go at break neck speeds or I might have taken a wrong turn. This segment how tons of blaze trail markers to indicate where the trail is and where it goes to. I've never used this system before, but it was covered in the pre-race Powerpoint. Blazes consist of two rectangles stacked vertically. If the top rectangle is on the left, it means the trail heads left and vice versa.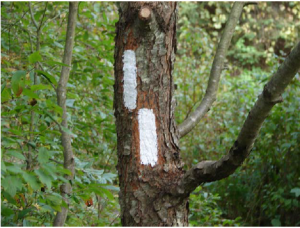 It's something pretty simple, but if you don't know the system you could end up pretty far down the rabbit hole.
Stage 11-14: Finishing in the Dark
As we approached the limits of the Toronto mega-city, more and more of the stages had stretches on roads. This was probably a relief for all those people on hybrid bikes. It also lead to a lot of people running the red light at the beginning of Stage 13. I feel like some athletes get a sense of entitlement or privilege while racing so they do things like this. The motorist-cyclist road relationship is paper thin at best and this really only exacerbates the situation. Little things like this really rub me the wrong way as we should always be mindful and considerate racers. Don't even get me started on athletes throwing paper cups on the ground!
By stage 14, the sun was setting so head lamps were donned. Good thing to because this leg took us awhile and it was completely dark by the finish! At the finish line there was lots of beverages and snacks to refuel on and even a well-lit area to take a team photo! Voila!
Different teams; same team. (Photo Credit goes to the ORTA)
Last Thoughts
This was a really fun relay race to do with friends and I definitely look forward to next years race. I think 5 people on a team worked out really well. It gave us all enough time to rest, but not too much where we were stuck in the support vehicle. I mentioned the confusion at beginning of the race but this was a totally isolated incident due to registration, anxiety, and canoes. Every other check point was well above my expectations. They were well staffed by many knowledgeable volunteers, had fruit and water for the athletes, were very recognizable with tents and signs, and had lots of room for vehicles and bikes.
I'd recommend this race to anyone, regardless of experience. If you're just starting out adventure racing you get a chance to run, bike, and canoe all in one day. There's no hard navigation but you still get to cut your teeth reading maps and practice racing with your head up looking for blazers. I'd also recommend this to people of all physical abilities. People who want more of a challenge can definitely do more segments or even back-to-back segments. People who want to dial it back can add more people to their roster and can serve as a great team activity.