Date: Saturday June 4, 2016
Location: Southampton, ON
Distances offered: 3k, 5k run/walk, 10k run, half marathon
Website: http://www.rotaryrun.net/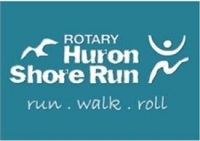 I know lots of runners love to run the big city races. They get up super early to fight traffic, jostle their way into their corrals and patiently shuffle their way up to (and across the starting line) before eventually picking up their stride and settling into a comfortable pace.
I'm not one of those runners.
I love open spaces, fresh air, and lots of nature. I love getting as much sleep as possible before a morning race since I'm typically an afternoon runner and mornings aren't my friend at the best of times. And I love discovering small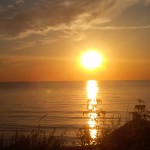 communities I might not have discovered any other way. For all these reasons, I decided to make the Rotary Huron Shore Run my second-ever half marathon.
I rented a nice little hotel room in Port Elgin, just a 10 minute drive away. The night before the race, I picked up my race kit (t-shirt and bib, nothing more), watched the sun set over the lake and drove a little bit of the race route to get a feel for what it would be like.
I set my alarm for 6:30am on race day and was on site by 7:30am. No problems getting parking on the main road near the starting line, and plenty of time to wander around and build up those pre-run jitters before our small pool of 132 half marathoners started off at 8:00am.
On a blistering hot day, running most of the kilometres on well-shaded small-town streets was a real treat, as was running many of the other kilometres immediately alongside the lake and hitting a turnaround point in a charming little marina. Looking out and seeing a picture-perfect lighthouse, calm blue water and clear blue skies just a few kilometres in really set a lovely peaceful tone for the run and overall the course is very gentle, mostly flat. Truly the only unpleasant part of the race was around the 11-13th kilometres, running uphill on the unshaded and very boring Concession Road 14 before turning around at the local grocery store to find sweet shady relief on the way back down on the hill. Water stations were fairly well spaced out throughout the route (though definitely more plentiful in the stretch where all the distances overlapped), and Stinger energy gels were available at most of the aid stations as well.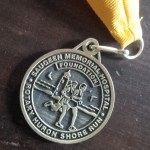 Locals lined the street for the last kilometre, cheering everyone on as we crossed the finish line and received our medals. The whole event has a sweet local community feel to it. Afterwards, just a short walk away was a Health and Wellness Fair, refreshments including fruit and sandwiches, and free massages. A nice bonus is that the post-race events take place in Southampton Coliseum (basically an arena/community centre) where there is plentiful access to proper washrooms for washing up, changing, etc. And once you're done there, why not spend the afternoon relaxing on the beautiful sandy beach just a short walk away?
Overall, this race is a well-organized small event that runs along a lovely lakeside route and raises money for a good cause, the Saugeen Memorial Hospital Foundation. If you're ever up for a weekend getaway, try this one out!