Date: August 7, 2016
Location: Cascade Locks, Oregon
Distances offered: 5K, 10K, half marathon
Website: http://bridgeofthegodsrun.com/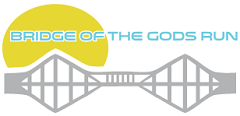 I love running destination races, especially smaller events with courses that run through nature. This was originally intended to be my third half marathon but, thanks to a nagging injury, I ended up downgrading to the 10K rather than miss the event altogether.
This was a super well-organized event from start to finish. Pre-race communication ensured we all knew where to go and what to do so there were no surprises on race day. As a diehard planner, I really appreciated that!
Because the local accommodations in Cascade Locks were out of my price range, I ended up staying in a cheaper motel in nearby Troutdale which was only a 30 minute drive on race day. After a serene and beautiful early morning drive, pulling into the very busy, one-road town of Cascade Locks on race morning felt a bit chaotic, but thanks to their clear instructions I knew exactly where to go to pick up my race kit and get onto the shuttle.
The race is named after the bridge that connects Washington and Oregon over the Columbia River, so we parked on the Oregon side and got shuttled to the start line on the Washington side. Because it's kind of a big deal to close the bridge to traffic, all runners are shuttled across on buses to wait for the start of the race so that the closure of the bridge is only a few minutes for the beginning of the half marathon, and then a few minutes again later for the shorter distances. While you're waiting for your race to start, this is the breathtaking view you get to enjoy as you look across the river to Oregon: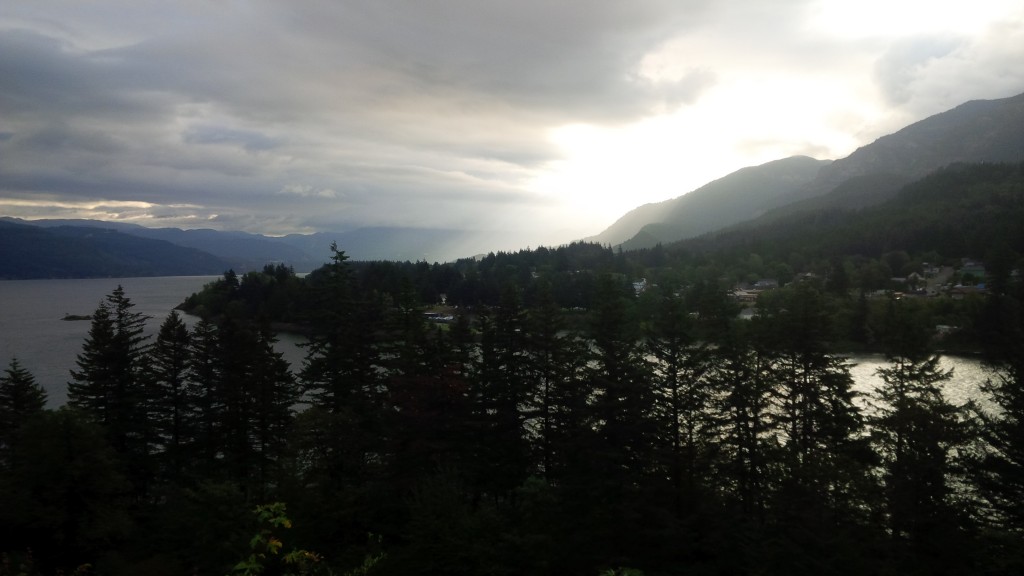 Whi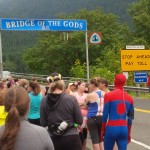 le waiting, there is a veritable buffet of pre-race snacks and drinks, a good number of porta potties, and a smart system for tagging our own gear bags. As the morning was quite cool, I really appreciated that their gear bag system meant I could keep warmer clothes on almost right up until race start. They also did a great job of giving us photo ops with the bridge before race start, knowing we wouldn't be back on the Washington side again after we crossed it. It really felt like they had thought of everything! And before we knew it, all of us non-half marathoners were lining up to start our race. When Spider-Man lined up with us, we knew we were in for a good time.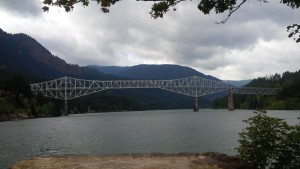 The run started exactly on time. The first half kilometre is spent on the grated bridge which means you can look down to see the river below you (if you're not afraid of heights!) and all around to enjoy the feeling of space and freedom as you cross the river. Some people choose to walk this portion just to get a few extra minutes with the spectacular scenery before getting down to the business of running.
After we got off the bridge, it was a quick trot down the ramp and across the road to connect into the mostly forested trail of rolling hills. According to the race's website, it's 400m of gain which really didn't feel as bad as it looked on the elevation map. That may have had something to do with the incredibly beautiful trail we were running, which looked like this: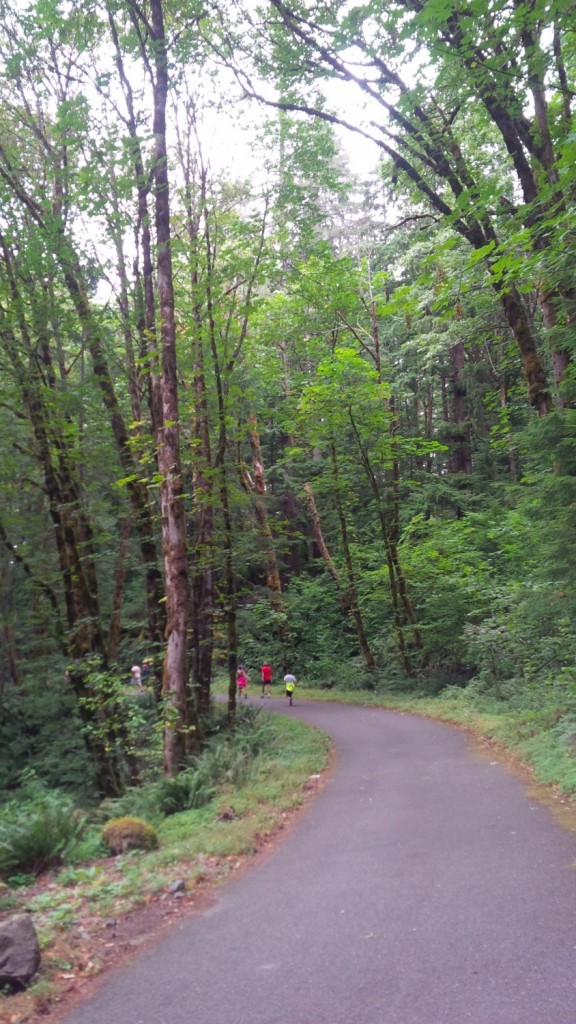 Just look at how tall those trees are, compared to the people on the trail. These are no Ontario trees…!
The course finishes by running through the town of Cascade Locks, across a small bridge and onto Thunder Island w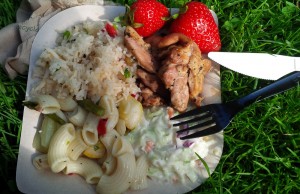 hich is a small island in the Columbia River that looks forward to the Bridge of the Gods and across to beautiful Washington state. There is tons of space to stretch, take selfies, get a massage, and eventually settle back to enjoy the view with a local microbrew from Thunder Island Brewing Co. and the fabulous post-race meal provided. Let's talk for a moment about the post-race meal: juicy grilled chicken, tropical jasmine rice with pineapple, red peppers and cilantro, Orzo pasta salad with grilled summer vegetables, sliced baguette with butter balls, fresh baked chocolate chip cookies and fresh strawberries. So delicious!
Every part of this event was so incredibly enjoyable, it was the perfect kickoff to my two-week jaunt exploring forests and mountains across the Western States and Canada. I seriously can't recommend it enough. Even if you just piggyback on this race to spend time in Portland and area, it would be a great trip. And for those of you who love the bling, check out this pretty, sparkly medal!