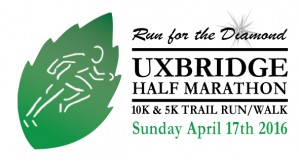 Date: Sunday April 17, 2016
Location: Wooden Sticks Golf Course, Uxbridge
Distances offered: Kids Dash, 5k run/walk, 10k run/walk, half marathon
Website: http://uxbridgehalfmarathon.ca
Last week it was -7 degrees, today it was +20. We all know the weather for spring races is a game of chance, and today we came out winners – we got to spend this beautiful, sunny, warm morning running through shady forest and along hilly golf cart paths surrounded by nature, soaking it all in.
The Uxbridge Run for the Diamond is a nice small race, just outside of Toronto. The 10k run is capped at 300 registrants, so you know you won't be starting with a huge horde of people – the difference between gun time and chip time is under a minute even if you're at the back of the pack.
I arrived at 8:15 which was plenty of time to pick up my race kit (which consisted of my bib and a poly/cotton t-shirt, nothing fancy), hang around to find out if I was the lucky winner of the diamond (I was not) and then head back to my car to have a small snack, pack my race bag and chill out in the expo area.
The race is incredibly efficiently organized – half marathon starts at 9:15, 5k starts at 9:20, 10K starts at 9:25. Each distance is marked with different-coloured flags and they make sure each group knows what colour to follow. The course is well-marked along the way with lots of flags and distance markers so you always know where you're at, and plenty of aid stations (water and gatorade) which were especially appreciated on a hot day.
The race is promoted as a trail race but it's not really – only the first 3 kilometres are through forest, some single-track, and the rest of it is all golf cart paths, almost all of which are paved with the exception of some very short stretches of gravel and sand. I've heard that the half marathon has a lot more trail time, but if you're doing the 10k leave the trail shoes at home, your road shoes will do you just fine.
As for course difficulty, I had read in advance that this is a hilly course and they weren't lying! This is not a 10K you're going to mindlessly trot your way through, you're going to work for it. And around 7.5km, when you hit a string of fast downhills and think to yourself 'wow, this is going to be such a fun, fast finish', think again -they're just preparing you for that one list hill in the final kilometre. I chose to walk it, and ended up exactly in the same place as the people around me who chose to run it – it's one of those hills.
Once you cross the finish line, there are lots of spots to stretch and cool down or even grab a massage before you head back in to the building where you will be thrilled to discover that the post-race food is amazing! At the finish line they have water, gatorade and milk cartons available, but inside the club house awaits a terrific spread of buns, crudite, salads (garden, pasta, potato, coleslaw), cold cuts, cheese slices, cookies and brownies. You may not get all the goodies in the race kit, but you do get fed very well after the race which is when you really want it the most.
Overall, I loved this event – great value for the registration fee ($40-60 depending on when you register) and a really well-organized, fun race experience. Give it a shot, Uxbridge is closer than you think!