As a first year Running Free athlete I was fortunate enough to win a Nathan product in the yearly lottery.
Looking through all the Nathan products that are offered at Running Free it was hard to choose (so many choices) I already own three hydration vests and a headlamp.
I borrowed a teammates Nathan Zephyr Fire300 to see if I would like it. I didn't like the feel of running with something in my hand, plus I recently bought two powerful handheld flash lights.
I decided you can never have enough headlamps (especially for the crazy 100 mile races) so I chose the blue Nathan Nebula Fire headlamp.
I tried a few short runs to check out the features and first thoughts. Here is a list of the features:
-Rechargeable headlamp designed for runners
-192 lumens with 5 lighting modes
-Run-Right Light™ combination of Spotlight & Floodlight
-RunWave™ technology to adjust settings touch-free
-Auto-Strobe™ communicates runner's presence to drivers
Charging was a breeze with the included cable. Plug into computer or electrical wall socket (adapter not included)
The first thing I noticed it was not very comfortable. My other headlamp (Petzl Tikka R+) has some extra padding and absorbent material. The Nathan Nebula Fire has nothing, just the plain strap.
I started my run and changed the different settings. Low=16 lumens (22hrs), bright enough for running in town on the sidewalk so others will be able to see you. Med=80 lumens (7 hrs), this is the setting I would use on most trail runs. High=160 lumens (2hrs 30 min), this setting would be useful for a shorter distance run on technical trail. High=192 lumens (3 mins to heat and battery considerations), I would use this setting to impress my friends 🙂 Kills the battery to quickly and shortens the life of the led bulb.
I tried the runwave technology but I could't figure out if it was working. When I waved my hand in front of the sensor, there was a brief moment of no light because my hand blocked the led. I never knew what setting I was on. Fortunately you can change the runwave option and manually switch between setting.
First impression – Nice bright headlamp with lots of features and very light weight, weighing only 3.1 oz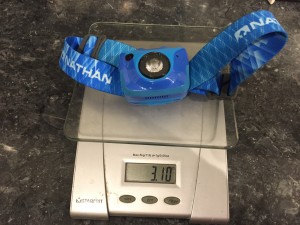 The big test was pacing a friend on her Fatdog 120 race in Manning Park BC. I started pacing at 1:00 and set my Nathan Nebula Fire to the medium setting (80 lumens, 7 hours) I figured this would be bright enough and last long enough for sunrise. The brightness was perfect, I was able to see ahead and peripheral without any problems. However 4 hours into pacing the headlamp's battery was done! Luckily I brought my Petzl Tikka R+ and a handheld flash light for back up. (Always be prepared for the worst)
Pros:
Light weight
Bright strong light
5 lumen settings
Cons:
Can't change battery when dead
Not comfortable on forehead (need a hat or buff)
Personally don't like the runwave setting
Expensive $100!!
Final though:
Good light from a great company, however I think it is on the expensive side. I love my Petzl Tikka R+ and it's $20 cheaper and you can buy spare battery packs and has similar features as the Nathan Nebula Fire