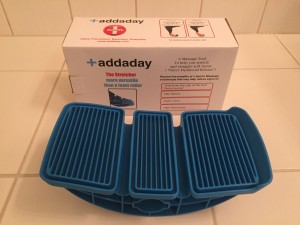 Well what can I say…when one is training for a marathon, and an aggressive, but attainable goal, one needs the tools to assist with this tough process.
The Addaday Type S Calf Stretcher is a tool meant to assist the much needed calf, shin and hamstring areas, in preparation or after tough runs or sports in general. I, myself, do believe the most effective time to utilize stretching or rolling is after a workout, versus before. I'm sure there is much theory on the lack of effectiveness to stretch prior to workout….specifically static stretching (pulling or pushing). It is best, after workouts, when your body is warm. However, some may disagree with me.
I used the Addaday Type S always after workouts. I found the first few times prior to my runs, that is had not made a large impact on my performance. But, when I incorporated it into my stretching routine post-workout, it certainly released tightness and helped me avoid injury all season.
The stretcher is a simple to use and portable tool that accommodates anyone. For the nominal cost from $35-40, it merit's is usefulness, and is light weight but still durable enough to ensure weight, weather and travel.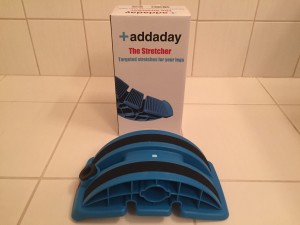 I did find that when I stretched my calf (with running shoes), the opposite leg would need to be elevated for better, elongated stretch. I do my stretches after running for 30 seconds on each leg, a few times and found it effective over the long term, which has helped my calf stretch and injury prevention. It can be used with or without shoes, however, to me, more effective without shoes, to elongate, but then you do not have the advantage of a better sole grip with shoes on.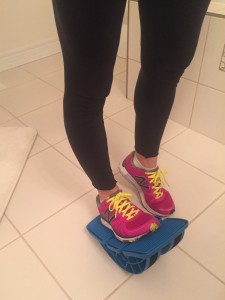 Overall, I recommend the Addaday Type S Calf Stretcher for the basic athlete or individual, but do not recommend it as the only source of increasing strength, flexibility and loosening muscles. Addaday has a wide variety of products (at addaday.com or Running Free Locations) and exercises, to assist with other key muscle areas. Type S is simple to use, provides the basic calf stretch and if you turn it around you may even feel a toe stretch. It is a great tool for running and I plan to continue using it.
Amy Rounding