I was not in the market for a new pair of trail shoes. However, ever since I went from stability to neutral shoes in 2011, which is when I started wearing orthotics for pronation control, I've worn a variety of useful neutral road shoes but had little luck with neutral trail shoes.
However, in 2013 or 2014, I found Salomon Speedcross. These were great, especially on trails with stiff obstacles, frozen ground or exposed root. I also considered myself lucky to have a pair of shoes that protected me like a tank while holding my gigantic size 12.5 orthotics.
While pledging my devotion to the Speedcross, I sheepishly tried Merrell's All-Out Crush. Blame my running coach here for this one. It was his idea.Sorry Speedcross. I have now found a neutral trail shoe with a different feel all together: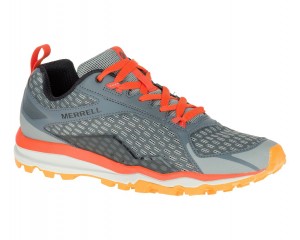 I am crushin' on the Crushes. For one thing, these feel more like a pair of Chuck Taylors than trail shoes.
The Crush has an equally great grip on soft or gravel trails.They might even work for an obstacle course event. The thin sole, however, was uncomfortably noticable over rocky terrain: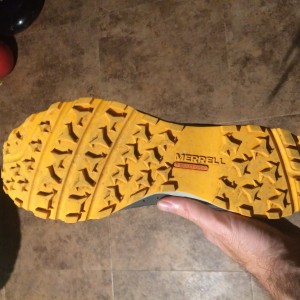 The fit was very comfortable with lots of room in the toe box. And they are a lightweight shoe beyond the feel – they are meant for speed and short to middle distances rather than an ultramarathon.
If you need a rubber toe guard keep your clumsy toes unbroken, stick with the traditional tank-like trail shoes. If you are running on non-technical terrain, dirt roads or grass, check out the All Out Crush. Then wear them around your back yard too.
Happy trails!