On Sunday July 16th , I had the opportunity to run in the 
Lindsay
Milk
 run 10k race.
The 
Lindsay
milk
 run has three distances, 5k, 10k, and this year they added a half marathon. When I first signed up I had aspirations of running the half however due to a lingering injury I opted for the 10k.
My previous runs have always been in big events in Toronto like the Sporting life 10k, and the Goodlife half and full marathon. This time I got to have a small town experience. And let me tell you, it was great.
It started off with a fast hour drive from Pickering. I loaded up the kids and family on a Sunday morning and with no traffic reached the main lot in under an hour. Here package pick up was fast in the hockey area. Same day pick up was great as I was greeted by many Team Running Free members.
The 10k course started up the street from the finish line on a residential street. The full course took you along quite residential roads on a Sunday morning where you were greeted by many residents. The course was clearly marked with almost a water station every 2km. Runners were greeted at every aid station with lots of volunteers having water ready and cheering runners on. At the 5km mark runners were greeted by a much needed sprinkler left on by a resident right along the road. It was an amazing an much needed splash. in the +20 degree morning. At about the 7km mark we  got out of the houses and onto some paved trails for about a 2km stretch. This was where the half marathon course merged for their final 4km. At about the 1km when we were on the home stretch the 5km race merged all the way back through the houses to the arena.  Running along side of the 5k runners gave me an extra boost to push to the finish line. The home stretch had a lot of residents cheering runners on all the way to the finish line.
Once crossing the finish line participants received a very unique finishers prize, a cow bell. It will definitely standout on my wall. The post race refreshments was top notch having bagels, apples, bananas, water, 
milk
 and did I mention Kawartha Lakes ice cream!  I enjoyed a orange pineapple scoop while my kids devoured a scoop of strawberry at 9 in the morning.
It was a great event and one that will be on my race calendars for years to come.  If your tired of running on the busy streets of Toronto, its defiantly worth a shot to run in a small town.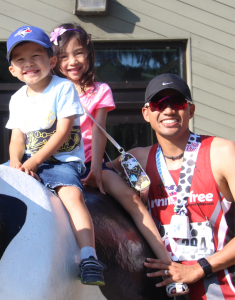 https://www.kawarthalakes.ca/en/things-to-do/lindsay-milk-run.aspx