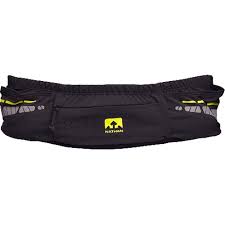 https://www.runningfree.com/products/Nathan-VaporKrar-Waist-Pak-p49604/?pstart=1
I enjoy running longer distances but one thing that has always irritated me
is how to carry nutrition/fluids on these runs. I don't carry much with me when
running (no music/wires/bulky phones etc), usually just a house key. I get
really bothered by gear that is moving around when I am out running (maybe this
is something I have work on, who knows). I have tried multiple brands of
conventional running belts but no matter what they claimed, they always ended
up sliding or bouncing or leaking. As a result I would use them a couple of
times and then they would find a nice spot at the back of the closet and I
would sneer at the money I had wasted whenever I would see them. I started just
carrying one of the Nathan bottles from one of the belts with me and did shorter
run loops to grab another one while passing the house.
One of my goals for the season was to do some longer distance trail running
so I knew I would have to sort this problem out. I went to the Team Running
Free meeting with the intention of trying out some hydration vests. When I was
speaking with the Nathan Rep he told me about a newer product that had come
out. It was called the VaporKrar and I was told it was created because Rob Krar
also does not like bulky bouncing running belts. I tried one on and bought it
that day. I was very optimistic for my running future and I was not
disappointed.
The belt is completely adjustable with no rigid parts so you can comfortably
wear it wherever you find it most comfortable (I prefer lower on pelvis as
opposed to waist). It is easy to tighten/loosen while running which is nice
because it allows you to ensure the belt stays tight as the bottle is emptied.
The bottle is soft and once the air is squeezed out it molds well to your body. I found that it did still bounce a bit when
it was full when worn bottle to the back.
The simple fix was to turn it around to have the bottle on the front and
then things were much better. It was
easier to get at without slowing down and involved much less fumbling. This is how I used it from then on. It has a zippered compartment as well so you
can carry small items with you without fear of losing them.
The only issue I had was with the Nathan customer service department. My I discovered that the nipple on the bottle
was damaged after my first use. I
contacted them to get a replacement and although there was an immediate
response, it was never followed up on. I
spoke with my team manager at Running Free and they sent a replacement to me,
and I assumed followed up with Nathan. I
hope this situation was unique to myself because the rep at the store was very
diligent.
As far as the product goes I am very happy with it and will continue to run
with it. I have suggested it to many
people who are thinking about running belts as an alternative to the annoying bottles, at a lower price point compared to the vests.