Having missed 5Peaks Race 4 due to a conflict with coaching baseball for my kids I am back at it for Race 5 at the Mansfield Outdoor Centre.
My buddy Mike and I were back at it again!
Prerace
As always, the information available and prerace email was great. They do a great job communicating in a fun and informative way.
Coming into this race I hadn't run in almost 2 weeks so I was feeling under trained but what the hell, a nice run in the fall trees on a cool day was going to be good regardless of what happens.
Like the other races things were organized with sponsors and such and the big and swag pick-up was well run. Coffee, water, snacks were available before and after the race.
The Race
Starting off in wave 5 of 6 put me in a pack of like abled souls. The prerace email warned of a 500m stretch of climbing right of the chute and they didn't lie! Fact is it was a bit of a struggle but not like climbing the ski hill at Kelso in Race 1 so I moderately difficult.
The cool weather of 5 degrees lead to perfect running temps.  The first and only water on the course was halfway at '3.5kms' and for me I hardly needed to top up the bottle.  I was working hard and sweating but not like the last race I did, Race 3, which is was horrendously hot.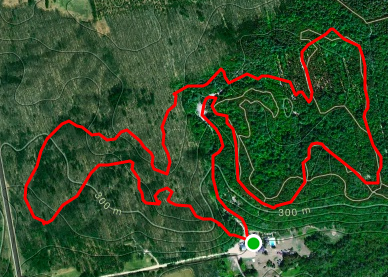 As most of the climbing happened at the beginning it lead to a lot of gradual declines. I found the rolling trails fun and pretty easy to navigate. The odd tree, stump or root but nothing too technical.
The mix of single and double track kept everyone challenged with room for faster runners to get by without any issue.
The one thing was that the distance was mercifully shorter. I hit the first 1km sign at around 850 meters and they got more inaccurate from there. The race was supposed to be 6.5km to 7km but my watch had it at 5.5km in the end … I wasn't asking for a refund! Trail races distance are notoriously different than advertised and if you are going to err, err on the side of shorter than advertised in my books!

Post Race
Everything was well done again. Food and drink was available in doors but we decided that avoid the line and grab something on the way home.
Swag update. I missed race 4 so was able to get the running mitts/gloves and seemed of pretty good quality. For this final race the swag was a pretty nice toque.
Overall the 5Peaks series was very enjoyable. I would recommend it for runners wanting to test out trails or for runners looking to experience some new places.