Date of Race: Saturday August 18th. 2007
Location of Race: Reykjavík , Iceland
Type of Event: Run
Distance: 1/2 Marathon (there was also a 3K family fun run, a 10K, and a full Marathon)
Web site: http://www.marathon.is
Bonus: The race coincided with Cultural Night in Reykjavík with lots to entertain all day and night.

Goody bag:
Asics technical T-shirt in deep red
Running "Buff" in the same deep red
Free pass entrance to any Geothermal Swimming Pool and Hot Tubs on Aug. 18 & 19th
Hardcover coffee table book or gym bag (randomly awarded at the end of the run – no rhyme or reason at the finish)
Weather: 16C, sunny and NO WIND (the day we arrived had gale force winds – which is why they included the Buff). Weather-wise we hit the lotto.
The course: 60 per cent flat, with only about 30m in elevation change. Very scenic.
Food: Water, bananas, and great Icelandic milk chocolate.
Team Diabetes participants: 60 people representing all provinces, and every age group from 10 years old to 70 years young.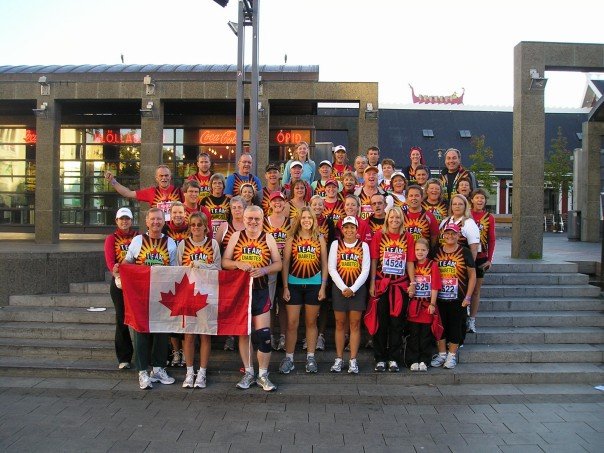 On July 1st, 2006, I signed up with Team Diabetes Canada to participate in my first long distance run and to raise money and awareness for the Canadian Diabetes Association. After a year of training and raising over $7000, I was in Iceland with 60 new Canadian friends from all over the country. Many of us were first timers for either the 1/2 or full marathon. We were all there for different personal goals and many of them were running with Type 1 or Type 2 Diabetes. There were also asthmatics, people in wheelchairs, runners with prosthesis, and world class athletes and Olympians. Every one of us with the same goal of having fun and crossing the finish line. Personally, I was quite nervous about my own goal of finishing. Three weeks prior to the race, I injured my knee during my long run (18km). After that I could not even run 4km when I tried. I rested and iced and was quite anxious and nervous about the distance and my knee acting up again. Anyways, the course was open for 8 hours so I thought no matter what, I was going to finish.
We were all up early to get a team photo. Many did not get much sleep since the Icelanders like to party until 6am and the hotel had to hand out earplugs for the guests. We were all decked out in our Team Diabetes singlets, Canadian Flags, Team D & Canadian Flag tattoos all over our legs, arms and faces. It was a proud little group. We also had our hometown cheerleaders who traveled with us (also decked out in Canadian Diabetes Association t-shirts and tattoos) who had the opportunity to cheer us on throughout the course. There were also the local Icelanders who were given red and white clappers to make some noise.
This race heavily supports charities and there was an early start for those that wished to do so and were not concerned about placing in the top elite. For the remainder of the runners, it was 9:10 start and the music started the event with U2's "It's a Beautiful Day".
The first pass of the race was around "The Pond" and up a tree-lined street into the city center neighborhood of Reykjavík . Looking into the crowd it was a sea of red. Most people either wearing their goody bag t-shirts or buffs (used as kerchiefs, headbands, hats, neck warmers, toques, pirate bandannas (you name it, there was a use for it)". It was quite spectacular. I started running next to a large group of paraplegics and they started and finished the entire run together as a team.
It was still early for the locals, but as we ran up the streets, there were families on their porches with their coffees and banging Swedish biscuit tins (the ones we usually get at holiday time here) with wooden spoons to support us. There were some houses that had grass roofs to keep the houses cool in the summer and warm in the winter (now how do they mow it?) Usually I prefer to run on the road, but these ones had many speed bumps. Not too big, but it was a constant up and down for 5KM which I think was not good for my knee. Also, the course is not traffic free so there were cars and buses to deal with. Next, more coastal scenery and beautiful views. It was quite breathtaking although this is where I started to really hurt. I slowed down dramatically and just concentrated on doing 10/1. At about 8KM I saw our Team trainer running back to find runners who were in need of support at the back of the pack. She saw me in pain and told me that their was a water station up ahead so I just focused on getting there. At the water station, I saw another Team trainer and he offered to walk with me for a bit and we discussed how beautiful the course was.
After a good 5 minutes of walking I decided that was enough and ran again. Painful. The day before I left for the trip my colleagues at work gave me a Good Luck card and inside were little notes that I was told to only open at specific moments during the race. They had specific instructions to open "Pre-race", "During the first 1/2", "When you need it", "Near the finish" etc. They were all in my skort pocket in the order that I was to open it. During this first half I needed those little messages. Every time I thought this is too much pain, I opened up one of those messages and it was inspiring. One had a little picture on it and just made me cry. Thinking of those that had supported me made me carry on.
So I continued. I also knew my husband was waiting for me at 12KM. I saw him and nearly collapsed. I was really in pain I told him that it would be a while for me to cross the finish and he just yelled to me "Take your time, don't worry". At the 13KM, there was another music station (really great music – too bad there were not more), toilets, and water. I decided to take another break for 4 minutes and just rest there. After that, I don't know what happened, I must have forgotten about my leg or it was just numb. At this point, there were some long and lonely stretches. The race is never congested. I decided to do 9:30/1:30 (I seemed to need that extra 30 seconds of walking mentally before I ran again) and just really took in my surroundings. Some of the scenery was very gorgeous, then we entered the Shipyard. It was very colorful, a little smelly, not well marked (good there were some people in front of me), and a little CSI.
16-17KM were all uphill but I took it slow. At about 18KM my feet felt apart from my body, they seemed to go faster than I was expecting them to. Once I saw the skeleton Viking ship, I knew it was almost over (we did a fun run the day before to see the final part of the route). I then saw the 20KM marker. I felt great that I had the energy to the finish. So many of the Team was there near the chute cheering me on and taking my picture. There was even a little Icelandic girl running in circles next to me talking to me (although I could not understand her) – she was like a little cherub.
Anyways, I finished with tears in my eyes, not because of the pain, but because of all the support that I had in Iceland and in Canada. I did not even pay attention to the time. I finished my first 1/2 marathon and I think I would do it again.