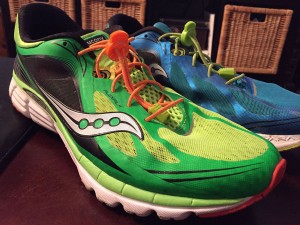 At the start of this racing season when my beloved Brooks Cadence we're nearing their last miles I had to start looking for a new shoe to train and race in. Last year I was luckily able to purchase a few additional pairs of the original Cadence when Brooks changed the design with the release of the Cadence 2. The new Cadence looked great, but after trying a pair on they just didn't feel right.
When looking around for NEW and obviously flashy pair of kicks, I wanted something that would provide enough cushioning for the countless miles training for the Ironman, and something that would also double as a race day shoe. The Kinvara now in it's fifth iteration has been around for many years but I never paid much attention to Saucony as I had been running in Brooks for many seasons. The first thing that caught my attention with the Kinvara 5 was the wide selection of vivid colours, what sold me was when I first tried them on and It felt like I wasn't wearing anything. The lightweight EVA+ foam sole and the upper PRO-LOCK® flex film hugged my foot and weighing a mere 7.7oz (for a mens size 9), I am a size 12 so they're slightly heaver. Overall the shoe fits very well, and has a roomy toe box which feels more like a slipper than a running shoe.
The first run with the shoe was incredible, we completed our 4 hour ride and promptly slipped into our new Kinvara's. These shoes were a pleasant surprise on not so fresh legs, instantly feeling faster which is always a bonus. We completed our 14km run and were both very please with how the shoe preformed and the overall comfort. Over the coming weeks I continued to train and race in the Kinvara's. We both enjoyed the shoe so much we bought a second pair to rotate through. Over the season I have logged many miles on both pairs, the overall durability or lifespan of the shoe is a little less than a typical shoe, but for the cost of the Kinvara 5 ($119.99) compared to other shoes I feel like you're getting the same mileage per dollar. I have race in the shoes from Olympic, half Ironman and full Ironman distances this season and my feet felt just as good over 10km as the did in 42.2km.
Overall I would recommend these shoes to anyone who is looking for a neutral shoe which is light weight which offers enough cushioning for the long runs, day-to-day training and performance come race day.
Pros: Very light weight, breathable, great colour selection, price
Cons: Not great for winter running, durability is a little less than typical training shoe.