Ever since I started running a few years ago, I have been a Saucony girl. For my fairly large flat wide feet, Saucony Guides gave me the perfect balance of comfort, support and stability to carry me through any distance I was ready to tackle. When I decided to venture into trail running for the first time earlier this year, naturally I figured I'd end up in Saucony again, so you can imagine my surprise when I didn't. After a lot of online research, a lot of trying on shoes, and a lot of talking to the pros at Run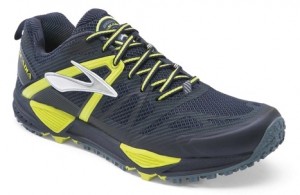 ning Free, I ultimately ended up in a pair of men's Brooks Cascadia 10 trail runners – and I LOVE them.
I ended up in Cascadias because they had a comparable weight, heel-toe drop and support level to the Guides my feet were used to (see below). I ended up in men's Cascadias because they gave me the extra width in the toe box that I just couldn't seem to find in any other shoe.
| | | | | |
| --- | --- | --- | --- | --- |
| |  Brooks Cascadia 10 (men's) |  Saucony Peregrine 5 (women's) |  Brooks PureGrit 4 (women's) |  Saucony Guide 8 (women's) |
| Heel-toe drop | 10mm | 4mm | 4mm | 8mm |
| Support  | Neutral |  Neutral | Neutral | Light Stability |
| Weight | 11.6 oz |  17.0 oz |  8.2 oz | 8.4 oz |
My first run in these new shoes was 10km. I was a little worried about not easing into them, but there was no need to worry – my feet were instantly comfortable and stayed comfortable I think partly because the heel-toe difference and weight difference were minimal compared to what my feet were used to.
They provided great support and stability over uneven terrain thanks to the 4 point pivot system, and the "ballistic rock shield" provided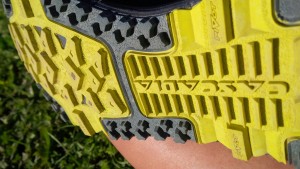 fantastic protection against all those sharp things that poke out from the ground on trails (which I had been really feeling in my first few trail runs wearing my road-running Guides!). And I really appreciated the extra space in the toe box when I was pounding down hills, which I was able to do with great confidence thanks to the wicked treads on the bottom of these shoes.
As a new trail runner I can't say how Brooks Cascadias compare to other trail running shoes, but as someone with feet that I find hard to find the perfect shoe for, I can tell you these trail runners made me feel like bad-ass Cinderella. I'll be venturing over to the men's wall far more often from now on!