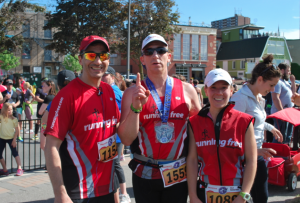 It was a beautiful Saturday morning in scenic Barrie waterfront, 20 celsius degrees and a promise of good weather.
We arrived early, 45 min before the start and parking was not a problem at all. The city provided free parking during the event and that made life so much easy.
Start was next to Heritage Park, right in Barrie downtown, lot of color and enthusiastic people cheered the morning.
We started running south around the lake and after 3k we were running north over the other side. Some hills not too steep but some of them long enough to make them challenging.
Not knowing the course is always an issue, I do prefer to do a visit before each race but I wasn't able to do it this time. So I didn't wanted to push too hard at the begining. After about 6k you turn back over your steps and return in the same direction to the starting point.
This is something I really like, I love races where you run back for 2 reasons, first you know what's next so you can better plan your speed based on how do you feel at that moment. But also because it is nice to cross other runners and more if they are   "running free team mates".
When we get back to the start we were covered around 13k and still some more to run. Now we did run north again but this time over the same side of the Heritage park coast.
Same as before some inclines but not really hard, only the last 1k before turning back you realized that the advantage of running downhill will soon be painful.
After the last turn around only 4k to go and same as before crossing runners still on the way.
I felt very good this last 4 km, The weather was beautiful and we were running next to the lake on a nice and quiet gravel path. For a moment I forgot I was running a race and almost felt relaxed.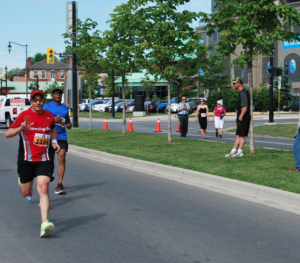 Last km was a flash as usual. Coming back to the park you can hear music and people cheering, that type of atmosphere that makes you run faster. Couple more turns and in the last one I did sprint to give it all, before the finish line I passed everyone around and in front of me.
I didn't beat my Personal best this time but I was just few seconds slower than that, enough to finish 2nd in my age group (M 45-50)
The medal and post party worth all the rest.
I do strongly recommend this race to anyone that likes Halfs, just remember to do some hills in your training and you will have a lot of fun.
I will try to repeat it next year
Julian Fernandez