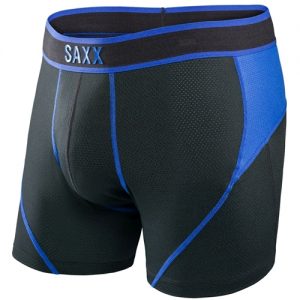 As runners, we pay close attention to the gear we use, and it never ceases to amaze my wife how something as simple as putting one foot in front of another can require so much gear (and cost so much money!): shoes, moisture management clothing, heart rate monitors, watches, GPS, hydration systems, fancy sunglasses, compression socks, on and on it goes…and we haven't even talked about all the OTHER stuff we need for winter running: jackets,  head gear, gloves, tights: light weight, medium weight…don't get me started on tights!
But for all the gear we obsess about literally from the top of our heads to the tips of our toes, there is one piece of clothing that we rarely pay attention to:  Our underwear.   Well, it is worth thinking about, because for one thing, they cover the most sensitive areas on our bodies.  You can have on hundreds of dollars worth of high tech clothing, but one poorly placed seam rubbing you the wrong way can quickly ruin the joy of a nice long run on a beautiful day.
A couple of weeks ago I had the opportunity to try the Kinetic Boxers by SAXX.  I picked up a pair of of the shorter 5″ version (pictured above) as well as a pair of 8″ long boxers.  Right out of the box I was impressed by how soft and comfortable the material felt in the hands.  Running my fingers across all the seams, the waistband and leg openings, there was nothing that would even remotely cause any friction issues.  I first wore the short boxers during a 45 minute all out, hot and sweaty speed work session on the treadmill.   About the best thing I could say about them was that I didn't realize I was wearing underwear.  They were THAT comfortable.  They wicked moisture away perfectly to keep my skin dry, and they stayed in place through the entire workout, providing the right amount of support, without ever feeling tight.
A few days later on a breezy and cool morning I wore the long boxers under my tights for a 2 hour long run.  The extra length provided some additional warmth, and again the boxers performed perfectly in terms of support and moisture management.   They were the perfect behind the scene unsung heroes:  You don't notice them, but they got the job done.
For quality, comfort, and moisture management, I honestly have not worn anything more comfortable next to my skin.  They come in various lengths, designs and colours.  If you are looking for underwear that are designed to work and move with you, these are definitely worth a try.