As a new member of Team Running Free Newmarket, I was excited to be a lucky lottery winner of four pairs of Smartwool socks. I was amazed at the selection, with several different styles and colours. I selected four different pairs of the PhD Run model, in four fun colours and patterns – grey and pink, multiple shades of blue, black and grey, and purple and teal stripes (see photo).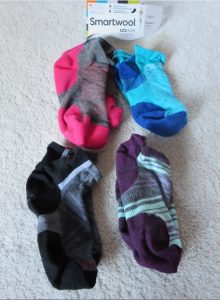 All four pairs are made of wool (hence the brand name) with nylon and elastane. They are super comfortable, and are warm (but not too warm) both on the treadmill and outside (in cool April weather AND warm May weather).
I am extremely prone to blistering under my toes and along the side arch of my feet, and rotated through several pairs of running shoes before trying higher end socks. I have tried other brands with limited success, but I am delighted that even after runs of 20 km, I have not seen any sign of blistering. For that reason alone, I highly recommend these socks to anyone looking to experience blister-free running. Please visit the Running Free website to view these socks and others online:  http://www.runningfree.com/products/Smartwool-658/
In addition to blisters, I have a bad habit of scraping my right shoe against the inside of my left ankle while running, causing scraping and bleeding even through socks that cover the ankle. Three of the pairs I tried cover the ankle (they are called "low cut") and provided excellent protection on my ankle (see photo).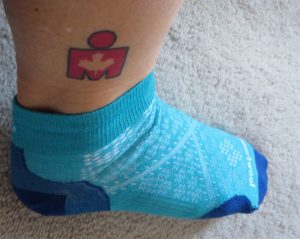 The first pair I tried was the higher end Light Elite low cut model, which are thicker than the other 3 pairs and provide extra cushioning. I am wearing these on my 20 km+ runs because of the extra cushioning. The next two pairs were also low cut models, and were a little thinner, but still very comfortable.
The fourth pair I tried was the striped micro model because I loved the purple and teal stripes, but these socks don't cover my ankle (see photo).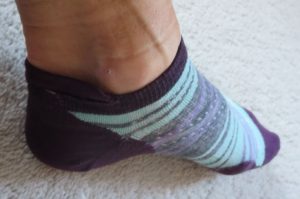 The short length is probably not problematic for most runners (and some runners probably prefer this length), but I experienced some scraping on my unprotected ankle while wearing these socks. I will have to adjust my gait (or keep trying anyway), or save these socks for my bike rides instead.
Overall, I am thrilled with the performance of the Smartwool socks, and would happily purchase more pairs in the future.